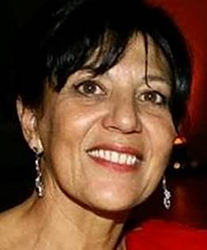 Lic. María Cristina Azcona
Email: mcrisazcona@gmail.com

       PROFESSIONAL PROFILE
TITLES
Psychologist at the University of Salvador, 1975
Family Counselor at the University of Navarra, Spain, 1999
Previous: National Normal Teacher, English Teacher
ACTIVITIES
Psychotherapy and familiar counseling
Educational psychotherapy
I am an independent consultant specialized in labor and car accident injuries,
I do:  Psycho diagnosis on victims with participation in more than 3,000 civil and labor trials
Also I have a huge literary activity as writer and editor in both English and Spanish languages. I have written 16 books in different countries and in Argentina as an author and editor
I do and promote bilingual research on world peace and -permanent no systematic education of children and adults as a strategy to this end.
I've been investigating rented for UNESCO on the theme "Education for Peace" and has received numerous national and international awards concerning literature in English
I work for free as coordinator of national and foreign authors interested in topics such as World Peace. I am a faculty member at several universities in the area of ​​education such as the Center for the Study of Dignity and Humiliation of Columbia U., N. Y, USA among others.
President and Founder of Peace Worldwide WWPO- Organization- (Organization for World Peace) ex Bilingual MCA Writers for Peace
Director of the International Forum for a IFLAC- Literature and Culture of Peace in Latin America
Deputy CEO UHE- Hispanic Writers Union Peru
Vice President and co-founder of GHA- World Association for Global Harmony
NOBEL PEACE PRIZE 2013 Official –Candidate   
In addition:
• Conducted lectures and courses on Adult Continuing Education
• Literary Translations English-Spanish and vice versa
• Write books in English and Spanish
• Write philosophical and educational articles
• Edit anthologies of poets
BOOKS
LAST published in Chicago USA in 2014 as editor and co-author
In English. About Peace and Peacemaking, 14 authors, 400 pages
BOOKS PUBLISHED AS UNIQUE AUTHOR  IN ARGENTINA
TWO SIZES LESS OF BRAIN
POSTMODERN WORLD
COURTHSIP TODAY
ANGEL'S VOICE
INDIA
A WINDOW TO THE SKY
A GUIDE TO FINDING PEACE
MY BELOVED DAYDREAMS
A TREASUREE OF MYSTERIOUS LOVE
BOOKS IN USA
ABOUT PEACE AND PEACEMAKING
THE ABC OF SOCIAL HARMONY  
BOOKS IN INDIA
HAIKU OF THE YAMAMURA
VOYAGES
SYMPHONIES
BOOKS AS EDITOR
THE TAJ MAHAL REVIEW (twenty volumes)
LITERARY THOUGHTS FOR PEACE
ABOUT PEACE AND PEACEMAKING
BOOKS AS FOREWARDER
Authored  the  prologue to 60 works, many of them in other countries such as Norway, India, etc.-
I´ve edited anthologies of poetry since 2001 in India and Argentina
articles published in hundreds of magazines in many countries like USA, England, Spain, Brasil.etc.-
COLUMNIST
I usually perform in literary and educational programs within as well as national and international publications
GRAMMA 'The magazine of the University of Salamanca University and graphemes magazine of the University of Arizona, USA publish my  articles and literary works
LECTURES
Puberty and Adolescence
Family conflict resolution
The left-handed child in Kindergarten
Family counseling in the rehabilitation of the Blind
How to achieve inner and outer peace through poetry
Towards education of the third millennium
How a culture of peace is built from education
Therapeutic conjugal relations from literature
Dignity and psychological humiliation in childhood
AWARDS -2014
For her contribution to a culture of peace by International Forum of Art and Literature (based in Rosario) sponsored by the Government of Rosario
Numerous literary awards in Argentina, Norway, India, USA, Russia-Israel
In 2015 will receive the Gold Vip  Light house on  Literature in Argentina

LANGUAGES
Spanish: native
English: fully bilingual
COMPUTING     advanced level
PERSONAL
Married, two children