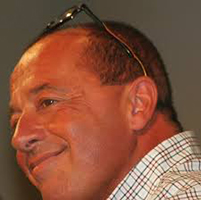 CARLOS PALMA
El Cairo-EGYPT
Uruguayan professor in El Cairo
International Peace Festival, Music and Art in Cairo: World Peace
With the intention to extend, promote and celebrate the highest values to ensure lasting peace in a region of the world particularly affected, El Rowad American College of Cairo (Egypt) under the direction and auspices of the Director General of International Activities of the American Schools in Egypt, Carlos Palma, is organizing an International Peace Festival, Music and Art for the next 28 and March 29.
Regardless of interest to anyone concerned about the situation of the world we live must create an instance of this type -appeal to peace in times of extreme violence globally International Peace Festival, Music and the Arts account with an extra special for CANELONES TODAY readers: the direction and auspices of the Festival correspond to a canary that, for many years, has chosen to live and work from conflict zones: Carlos Palma.
the roads
"I left Uruguay in 1980 with destination France", tells TODAY CANELONES from Cairo and via email, Carlos Palma. "Since I'm living in a Christian community that gives life to a great movement: the Focolare Movement, born in the Catholic Church in Italy over sixty years ago. The focus and message this movement wants to give the Christian world (Roman Catholic and other churches) is "live for universal brotherhood", testifying to life the spirit of "unity" in all environments ".
In its submission, Carlos note that the link with the Focolare Movement has been central to his life: "My life has been devoted entirely to witness this message. On his own initiative I have asked all my might offer in countries that suffer most from the lack of unity and brotherhood. This has led me to spend my last 28 years, in several countries of the Middle East, bringing the spirit of love and peace where wars have wanted to bury such high values that give the right to human dignity ". Among the places where he has lived and worked, Carlos mentions its establishment in Iraq over the past two wars and the war in Lebanon (Beirut was two years) and half of the ongoing Jewish-palestinenses tensions in Jerusalem, where he resided twelve years. Currently, eight-year established in Cairo.
concern
Carlos tells us that, at present, "work as Director of International Activities for American schools and, through it, try to bring the younger generation, the Ideal of unity and brotherhood, based on the Golden Rule common all religions: "Do unto others what you would have them do to you. '" In many years of work and dedication to the cause, Carlos says a lot of projects that have been made in favor of peace and fraternity, as with schools tsunami victims in Asia, poor schools of Darfur in Sudan, the population poor in southern Egypt or child victims of the current war in Syria.
"Two years ago," says Carlos, "just after the revolution in Egypt, wanted to start a Peace Festival to give voice to the younger generations and have the opportunity to express their feelings and communicate their concrete commitments for peace. That first festival was a success that was called to participate with two of my students, the Global Forum for Peace in Luxembourg in May 2011 ". In this particular instance, recalls Carlos: "In front of many personalities in the political, diplomatic, cultural, social and educational field were summoned to give testimony of our concrete action and broader horizons for Peace. Universities, schools and embassies of several European countries called us to repeat the same program prepared for Luxembourg. That year, the two students (15 and 13) were named 'Godfathers of Europe's commitment to peace'. "
the Festival
"This year, because of the ever tragic events in Egypt, with increasing casualties, and dissatisfaction of younger generations, students have called again for a new Festival for Peace" says Carlos Palma. "A month after its completion, many international schools participating and thousands of students in 38 countries worldwide, wanted to send poetry, photography and writings on Peace". Carlos is particularly hopeful to the presences reach the Festival. "Several ambassadors have pledged their presence and every day a new embassy called me asking to be present on that day," he says.
Finally, Carlos summarizes the creed of his work with special emphasis: "Whenever I feel the physical strain on the body, I remember my determination to want to give my life to God as a contribution in building a diverse ... more united world where we can all recognize a unique family. This gives me new impetus to go to face the many challenges that living in these countries leads, stop thinking about myself and my comfort to project myself completely in the happiness of those around me. "He concludes: And who happiest who enjoys a climate of peace "?